B Food Science Co., Ltd. is contributing to enhancement of people's lives everywhere through the production of numerous foodstuffs, pharmaceuticals, chemicals, and industrial products, in compliance with all related laws and regulations.
QUALITY POLICY (Acquired ISO9001 certification in July 2005)
ENVIRONMENTAL POLICY ( Acquired ISO14001 certification in January 2007)
Food security policy (Acquired FSSC22000 certification in December 2013)
In keeping with our mission to create the materials of tomorrow, the lifestyles of tomorrow, and people's wellness of tomorrow, we are committed to improving our products and services and contributing to the prevention of pollution and protection of the global environment. We will continue to enhance our management system, strictly comply with laws and regulations, and meet other requirements.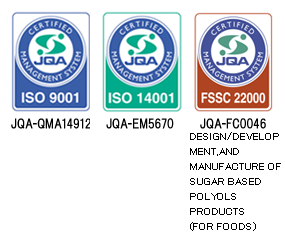 B Food Science adds more value to sugar than sweetness alone, and aspires to lead the way in contributing to the quality of life of people by focusing on the following five commitments:
Safe and reliable manufacturing
Responding to the demands of our customers and the needs of the times utilizing our technological and R&D capabilities cultivated in the sugar-based polyols business
Continuing to function as a community of professionals driven by the never-ending spirit of challenge
Cultivating future leaders to have exceptional competency
Acting with care towards the global environment and a thorough awareness of compliance
May 1, 2022
B Food Science Co., Ltd.
Akito Umeda, President & CEO